"The internet has been one of the most transformative innovations
of the modern era, driving generational shifts in how consumers
live, work, and shop."

Forbes
With the adoption of technology and digital transformations continuing to escalate, advancing digital-savvy leaders has become a key business initiative. Instead of thinking about generations in isolation, organizations must understand patterns of consumer behavior and how they influence one another. They need to compete on the digital level, both in-store and online, to remain relevant to all generations.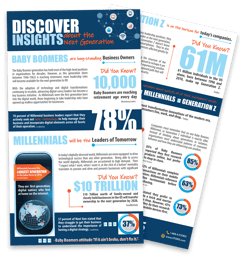 In our Next Generation Infographic learn about:
Transformation from Boomers to Millennials
Endless opportunities for digital Millenials
Demographic changes in the workplace
Gen Z and what they bring to the workplace
Is your technology ready for the Next Generation?

Fill out the form to download.