"There's a big discrepancy between how soon consumers want to receive items versus how quickly they actually receive them. This extends across many sub-sectors of retail."

Supply & Demand Chain
Thanks to online stores like Amazon and Wayfair, shoppers have become accustomed to
ordering an item and receiving it in the blink of an eye. Providing your customers with
up-to-date delivery fulfillment information can be the deciding factor of where they purchase.
Due to constantly evolving consumer mindsets, the home furnishings industry is focused on technologies to: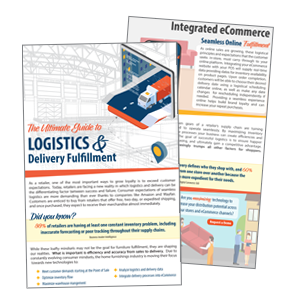 Meet customer demands starting at the Point of Sale

Optimize inventory flow
Maximize warehouse management
Analyze effectiveness post delivery
Integrate delivery processes with eCommerce
Is your business using the technology tools available to best position your supply chain for success?

Fill out the form to download the all new guide.