The How-To Guide for Developing a Successful eCommerce Website
With more furniture retailers having a presence on the web, it's crucial to set your website apart. From targeting the right customers to impressing them with a compelling design, eCommerce websites play a significant role in today's customer experience.
Having a dynamic eCommerce website enables retailers to actively participate in their customers' shopping journeys. Integrating your website with your in-store technology will increase convenience, drive traffic to your stores, and maximize cross-channel revenue potential.
This guide highlights 12 steps that will help retailers develop a successful eCommerce website for home furnishings.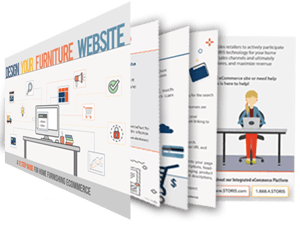 In this guide we discuss:
A Technical Foundation

Website Design

Intuitive Navigation

Merchandising Techniques

Online Payment Processing
Delivery & Shipping Fulfillment
Digital Marketing
Search Engine Optimization
Analyzing & Measuring Performance
Conversion and Checkout Processes
Customer Management
The Value of Reviews
Whether you have a website you're looking to enhance or you're a retailer thinking about getting started with eCommerce, this is the ultimate website guide designed specifically for home furnishings retailers.
Fill out the form to download the all new guide.